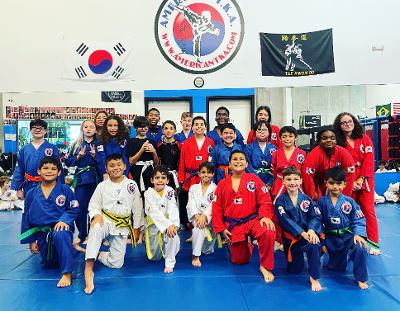 NEW School Year
2023-2024
American TKA Martial Arts is proud to have been serving Davie and the surrounding communities for over 25 years and becoming your number one source for After School Programs, Spring, Summer, and Winter Camp needs.
We are so much more than just a place where kids come after school to spend time until their parents pick them up. We instill lifelong values through the Art of Martial Arts into each and every student. We believe living a life of purpose means focusing each day on being the best version of yourself. We believe integrity, respect, knowledge, perseverance, humility, and honor are the cornerstones and essential qualities for living a fulfilling life.
Our Award-Winning After School Program
American TKA Martial Arts provides an After School Martial Arts program that enhances the lives of children.
Physically, we develop their balance, strength, coordination, and fitness that will help them grow to be strong and confident in their abilities.
Mentally, we plant in them fundamental values of respect, discipline, positive attitude, and persistence that will help them lead happy and fulfilling lives.
Emotionally, we give them self-confidence, self-esteem, and self-worth to help them make sound, positive decisions wherever they may go or whomever they shall meet. This is the critical aspect in teaching children these fundamental skills, which prevent them from becoming the victim of bullying.
Each training session begins with meditation, teaching the children to calm their minds and control their emotions. This is critical during these times when children are influenced so easily by social media.
American TKA owner Master Ginarte speaks to school teachers on a weekly basis, attends conferences, and reviews each student's report cards quarterly to monitor students' progression. Master Ginarte created our "Triangle Principle," which focuses on all 3 points converging together for the child's success (Home, School, and Dojo/Martial Arts). This is used in every aspect of our program.
Our program includes 7 forms of Martial Arts & Fitness/Wellness Styles (Tae Kwon Do, MMA, Muay Thai, Brazilian Jiu Jitsu, Boxing, Wrestling, and Parkour). We also conduct weekly boot camp workouts and teach extensive weapons programs. We have competition teams and are heavily involved in community projects as a basis for giving back. No other martial arts schools offer the diverse programs we do, and we take pride in our accomplishments and reputation.
American TKA After School Martial Arts Program is a priority for our school. Personal safety, focus, character development, and improved academics are only some of the benefits of this program. Studies have found that martial arts training has a direct correlation with the improvement of children's school grades. Our After School Martial Arts Program is perfect for moms and dads! It is a week-to-week, year-round program.
As an added convenience, we offer full-day programs on teacher workdays, school half days, and most holidays. Students will enjoy fun days with diverse activities in addition to their martial arts training. We may visit local parks and area attractions, or perhaps invite a guest speaker or performer. Of course, our facilities offer plenty of opportunities for fun too — maybe a kid's movie, state-of-the-art entertainment systems, a 30′ rock climbing wall, or an exciting day participating in Indoor Olympic Games. Whether students are enjoying a day of indoor soccer or watching an exciting movie, you can be sure your child will have a great time with the varied activities.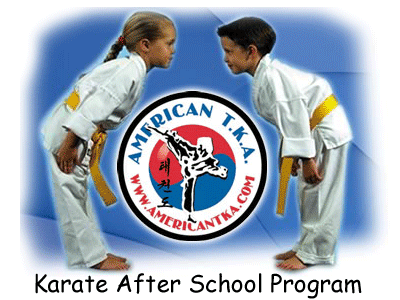 Transportation is provided each day for your child from their school to our school (call to see if your child attends one of over 21 schools we pick up from) in one of our 8 safety-certified buses. We are often adding schools, so if we don't currently pick up from your school, make the request, and we will make every effort to accommodate. Upon arrival, they will put their martial arts uniforms on, and based on your direction, spend an hour doing homework in our relaxation room, or play board games, play video games, or relax until the Martial Arts class begins. We start each day with an all-student meditation session. This is a critical aspect of our program as it teaches children to quiet their minds, focus on themselves, and reduce any anxiety and nerves not just in our school but in life. We then begin our Martial Arts Training. After the daily curriculum class, students can move on to specialty classes we offer or proceed to one of the separate private areas where they can do homework, relax, read, watch movies, and play games until their parents pick up.
We ARE NOT a daycare/childcare; we do not babysit. Your child will get physical exercise and learn discipline, manners, and respect for teachers, parents, and other students as well as themselves.
We teach and make your child a Champion in Life through Martial Arts.
Camp Programs. We are proud to offer Martial Arts Camp Programs.
Please see the Spring, Summer, and Winter Camp Sections of our website.
We welcome you to call or come by to learn more about our programs. Our after-school and camp programs fill up fast and are often on the waitlist, specifically for pickup with some of our more popular local schools. Lock in your child's spot and rate. It is our honor to serve you.